Current Best Sellers
New Arrivals
Europes biggest online shop for archery and crossbows.
Archery - a relaxing sport for the entire family
Archery is a sport for the entire family, no matter if young or old, big or small. Children aged 8 or older can already start archery. The Sky´s the limit. This is the reason why BSW offers a large selection of bows for each age. Even for our smallest customers we have something suitable in stock.
Which bows does BSW offer?
Choosing a bow is not easy. The variety of the different styles of archery varies just like the huge selection of models. For every style of archery, like traditional archery from horseback or competetive archery with FITA targets you have at least one bow model to choose from. The different models can roughly be divided as follows:
The choice of the right bow model of course depends on the preferences of the archer. An excellent choice for beginners are recurve bows that consist of 3 parts, which are called take down bows. These bows can be disassembled into the riser and the two limbs.
The advantages of take down bows
easy transport
can be stored with minimum space requirements
limbs can be switched
the draw weight can be raised with the increasing skill of the archer
Starting archery can of course be done with any other type of bow. Once the model is chosen, the next important step can be taken care of.
Finding the right bow for archery - draw weight, bow hand and bow length
In order for the archer and the bow to cohere and so that the set goals can be accomplished, the bow should be tuned as perfect as possible to the future archer. This is also a reason why it is subpar to use one bow for the entire family (parents and children). First of all, when choosing the suitable bow, the stature plays an important role for the future archer. Bow length and draw weight as well as the draw hand of course are to be set to the archer. If you decide to save on that, chances are that archery will soon no longer be a fun activity for you. Archery is consulting-intensive, therefore you should take the chance to receive expert advice from our service team so that you can start archery successfully. Together we will find the right bow, even if you are on a budget. There is not always need for buying the cream of the crop. Even on a budget you are able to purchase a great beginners´ bow. For under 100 euros in fact, an amazing Wild Honey Recurve Bow consisting of three pieces and including an extensive starter set can be bought.
Accessories for archery at BSW
Archery is very extensive and the same goes for all the accessories you can buy. It is not that easy to get one´s bearings in the masses of articles offered.
Protection for the archer
The protection of the archer is the most important. For that, we offer a variety of protective equipment, which should serve the archer. The archer can decide for him or herself whether this is necessary, although one should never relinquish an arm guard and hand protection.
Protection for accessories and equipment
But also the bow and its components should be protected optimally so that you can have joy with it for a long time. Accessories for protecting the equipment:
More archery accessories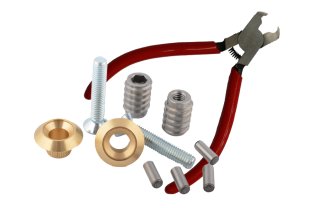 Additional accessories are normally dependent on the chosen style of archery. If one does modern archery, various accessories can be aquired.
Overall archery accessories, no matter what style you prefer:
quivers (side quivers, back quivers or bow-mounted quivers) 
targets (FITA-targets made from foam or straw, 3D targets) 
arrows (wooden arrows, fiberglass arrows, aluminium arrows or carbon arrows) 
When you arranged your bow equipment you can start with archery. It would be best if you took part in archery classes in order to learn about the basics and the right technique since mistakes that turn into a habit at a later point can then only be gotten rid off with difficulties in most cases. Once you have got a hang of the technique, you will soon start to really enjoy archery and will also be able to make your set goals come true.
Background data about archery at BSW
When did archery start? Archery did not start as a sport but as one of the oldest hunting methods of mankind. Before archery transformed into a type of sport, bow and arrow took an important position in history as a weapon used in war and as a long-ranged weapon. Bow and arrow have been used for at least 14,000 years. This can be dated by reference to encountered arrow tips. Further proof can be found in the form of cave painting and original finds, for instance the oldest find of a bow from Holmegård (Denmark). What is archery? It is no different than shooting a stick with a tensed stick? Right? Archery is so diverse that there should be a way to have fun for everyone. Whether you are into high-tech or rather minimalist, archery offers a possibility for everybody to do this relaxing sport due to its many variants. In the course of this, archery is not only a sport but so much more:
 still a method of hunting in many countries (although prohibited in numerous countries as well),
a form of therapy in case of physical impairment
relaxing sport for spirit and soul
Archery is as versatile as there are bow models.
Are bows weapons?
According to the current law in Germany, they are not. Bow and arrow are fun- and sports devices and do not fall under any restriction. (might be different in your country!) Safe and responsible use should still be self-evident, however, in order to prevent damage to objects and personal injury.
Buying your suitable crossbow at BSW
You are thinking about buying a crossbow? In that case you are absolutely right here and should take a look at our crossbows in detail since apart from bow and arrow you will also find the largest product range of crossbows in Europe at BSW. And even though anticipation was supposed to be the greatest pleasure according to the idiom, we want you to hold your crossbow in your hands as soon as possible. Therefore we have almost all of the models always in stock for you.
Furthermore, no matter if you want to buy a high-tech compound crossbow, a robust recurve crossbow or one of the small pistol crossbows: At our shop, both the beginner as well as the experienced expert will find a crossbow constructed to his requirements.
Apart from the large range of products, advice for customers is at least as important of a factor for us. Beginners and indecisive customers will receive extensive and competent advice for crossbows by experienced employees at BSW, who have been shooting crossbows for years. Our goal is that you are 100% satisfied with your purchased crossbow.
Does BSW also assemble my crossbow for me?
Besides the huge product range for crossbows we also offer numerous additional services. In case you do not want to bother with mounting the crossbow yourself or you are worried that you could do something wrong, that is absolutely no problem. Our technicians are going to mount your crossbow professionally and will thereby save you the troubles of mounting the crossbow yourself.
Mounting is of course just one task since of course the crossbow should also be sighted in properly. Even this job we are happy to do for you. Apart from mounting we also will sight in your crossbow. In that case you can take advantage of our sighting in service for crossbows. Here, mounting the crossbow is already included in the price and your crossbow will arrive mounted and fully functional at your location.