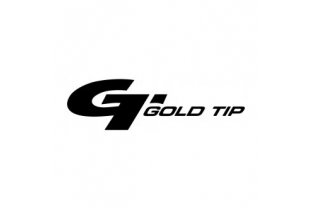 GoldTip: 100 per cent carbon arrows
If you are looking for durable and accurate carbon arrows that can take a punch, you have made the right decision with GoldTip. The GoldTip shafts are made of 100% carbon and thereby are substantially more robust than the shafts of some other manufacturers.
GoldTip is proud to be able to hand every archer a very good arrow. The hunting sector alone is parted into three categories by GoldTip, so that every archer has the requirements for perfect shots. The Velocity series offers high arrow speed and light-weight shafts as well as high straightness. The Kinetic shafts have an extremely small diameter but very high impact and unmatched straightness. This makes those shafts exceptionally precise even in bad weather conditions. On top of that, there are also the allround shafts of the Hunter series. Hunting with bows can often be unpredictable. The hunter has to be able to quickly adapt to new and difficult situations over and over again. That is exactly what the allrounders of the Hunter series are made for. They have high velocity, good stability and the durability you would expect from GoldTip.
There is also a large product range suitable for target shooters of course. In this sector in particular, it is important to score continuously good shots. In order for this to work, the arrows must have high straightness and fly very precisely. For this, perfect manufacturing from most high-quality materials is the absolute basis. Shafts from the series Ultralight, Series22 and xCutter are optimal for all target shooters. There are also low-priced models for price-conscious shooters in these arrow series.
GoldTip and its specialities
For all archers that look for a special arrow, GoldTip offers its shafts in Traditional, TedNugent and The Game. All shafts have certain characteristics, for example a traditional wood look or an exremely hard spine.
Search for it and you will find your shaft in the product range of GoldTip. We will help you with that and can also build your personal arrow in our own arrow manufactory.