Bow sets for children
Bow and arrow for children
'Tis early practice only makes the master - true to this common saying, more and more young archers are longing for the right bow and arrow. This positive development offers a welcome change from the smartphones and tablets that are increasingly taking the spotlight among young people. Archery for children offers an interesting and exciting opportunity to be physically active, to enhance concentration and to let the fun flow freely.
BSW will lead you to the perfect kids bow
These characteristics and possibilities for young archers alone are reason enough for us to take a closer look at this topic. We would love to support you in making the right choice for bows and arrows for children. It would be a pity to let the children soberingly distance themselves from the joy of the newly won hobby of archery by using the wrong equipment.
Buying the right kids bow
BSW offers you an extensive and well-sorted range of bows and arrows for children. Even the smallest archers get the best possible advice and the best accessories for the required use.
The increasing interest in archery has now reached even the youngest among us. Therefore the young archers want to do the same as the adults: Buy and shoot a real bow for children. But which bows are suitable for children to start with? We would like to get to the bottom of this issue.The increasing interest in archery has now reached even the youngest among us. Therefore the young archers want to do the same as the adults: Buy and shoot a real bow for children. But which bows are suitable for children to start with? We would like to get to the bottom of this issue.
Affordable kids bows for starting archery
Children who are still in doubt and who want to get closer to archery do not need to be equipped with the most expensive bows and accessories right away. Our range of children's bows offers a wide selection of affordable and high-quality models that can give you and the little archer an optimal introduction to archery without making your wallet hate you too much.
In this case we would like to recommend you take a look at the following kids bows. These are the Kidsbow children's bow set with numerous accessories, the robust ROLAN Black Snake and the popular EVANS Wind Fire. These bows convince with a robust construction, a reasonable price and also features that are specially designed for children who are looking for a perfect start to archery.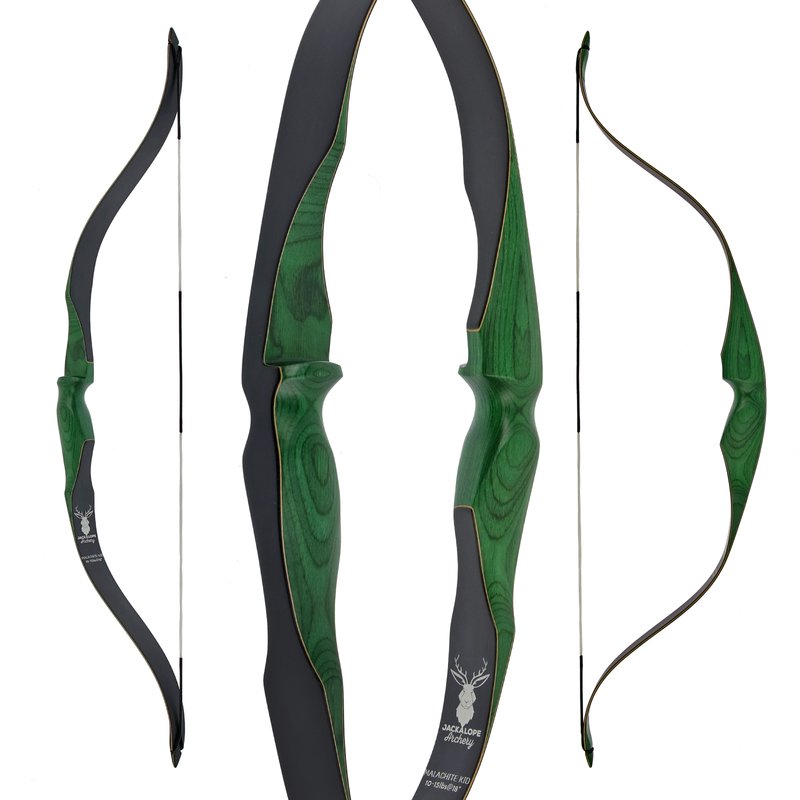 Kids bows for archers with ambitions
Children who have already decided for themselves and who would like to practice archery as a hobby in the future will find bows that meet even the highest demands. These are bows for children, which are in no way inferior to bows for adults. High-quality materials and flawless workmanship are a given of course.
The JACKALOPE Malachite Kid, the BODNIK BOWS Sioux or the take down recurve bow RAGIM Wildcat Plus Junior are some examples. Of course, this is just a small preview of an otherwise extensive range of high-quality bows for children.
From what age can kids do archery?
Usually, an approximate minimum age of ten years is given for the first attempts with a children's bow. In terms of their growth, some children may be able to concentrate appropriately for archery at the age of eight as well as learn and imitate the movements. In any case, for many bow-enthusiastic children the handling of bow and arrow is in their blood intuitively, they shoot without thinking about it and feel as if they were riding through the prairie next to the tribal chief. The BEIER Tjal children's bow is suitable for the very first attempts with the bow: With a 40 inch bow length and manufactured from rattan, this model is an ideal companion for a fun shoot before the actual training begins.
Kids bows - Before the first shot
Children and newcomers to archery in particular have to be familiar with the most important rules before entering the world of archery and observe the safety precautions in order to avoid injury.
The most important rule:
Even though they might not affected by the weapon regulations, we do not treat bows and arrows like toys. Therefore, we never point them at other people, not as a joke, not in anger and not because we are bored. No matter how sure you are that it will be fine. Besides, the pointy arrows are not only dangerous when they are nocked. For the transport we always use a bag or a cover and we do not run around with an arrow in our hands. Actually, it's the same with silverware: You just take it out of the kitchen for a meal and then put it away again. If we point at people (which is actually quite impolite in general), we would of course never do it with an arrow or with a bow! We prefer to call people by their names and not hold a bow or arrow tips in front of their faces.
The right kids bow for the first competition
Most children's bows and youth bows are recurve- and longbows, which are available in different sizes and with different draw weights. One of the classics among them is the RAGIM Wildcat Kid. The wooden bow, which can be disassembled into 3 parts with fine wood lamination and glass-fiber reinforced limbs, is available in 48 inch bow length and with different draw weights depending on the age of the young archers.
A powerful longbow that could also be used for the first competitions is the Bearpaw Sioux with a handy size of 54 inches (137 cm bow length). At archery tournaments, children from the age of eleven or twelve can participate, depending on the age of the youngest competition class. For the first successes in the youth age, for example, the recurve bow Bear Slayer is a good choice. Made of ash wood, this youth bow has the curved limb ends that are typical for recurve bows, which allows for higher efficiency. Find out more about the different sets including arrows and other accessories as well as the high-quality compound bows for teenagers at BSW.
Do you still have questions?
If you have any further questions about kids bows, we would be happy if you simply got in touch with us. Of course, we are also at your disposal for all other fields of archery or crossbows. You can contact us either by phone via the hotline: +49 (0) 3971 241 960 or by using our support center. Further tips & tricks as well as information can be found either in our BSW guide or on our YouTube channel.